Finances | Infrastructure | Ethics | Community Services & Recreation | Public Works | Public Security & Safety | Beautification & Environment | Communications | Labour relations | Urban Planning | Montreal Agglomeration| Outreach
Ten years in-a-row below inflation local tax increases.
Net long-term debt down 47%, since 2009.
Record operating surplus of almost $3 Million last year.
House valuations have increased dramatically. We now have the most expensive homes on the island, second only to Westmount. Formerly, we were behind both Westmount and the Town of Mount Royal.
Over 95% of our roads are now rated "Good to Excellent".
Sewers & water mains cleaned and rehabilitated.
Flooding of basements dramatically reduced.
State of our sidewalks, our street light network and more, all greatly improved.
One of the first Quebec municipalities to introduce a code of ethics.
Probably the most stringent code of ethics in the province.
Bill goes above and beyond the requirements of the code by refusing all gifts, regardless of value.
Has a proven track record that he keeps his electoral promises.
Won't take more than $200 in campaign contributions, and didn't, even when the legal limit was $1000.
Fought for the residents who asked him to build Hampstead's first dog run. Now it not only exists but pays for itself!
Improved pool, tennis, and parks.
Introduced many new events and programs.
Increased sports programs and participation.
Brought our parks up to CSA standards and continues to ensure all parks maintain the highest level of safety standards.
Created the sponsorship and advertising programs to generate income from community events (starting with the Night on the Town), trees, park benches, dog bag dispensers, newsletter, etc.
PUBLIC WORKS & SNOW REMOVAL
Redesigned our snow removal operations to be maximally efficient, resulting in one of the best records on the island (on average, snow is removed within 2 to 3 days).
Negotiated a deal to use the CSL snow dump saving the town at least $100,000 annually. We also obtained use of a second snow dump at attractive rates so that we will be well prepared in case of a winter with a very large amount of snow.
In order to provide better service and substantially reduce our enormous maintenance costs we replaced many of our ancient vehicles with new ones.
So that residents will have service 7 days a week with less overtime we introduced a 4/3 work week.
More traffic calming measures have been introduced than in any past administration.
More police presence was obtained.
Prevented the closing of neighbourhood police station 9.
Implemented new pool safety requirements.
Reduced loitering and drug related offences in our parks by creating no-stopping zones and adding lighting.
Beautified Fleet, Queen Mary, the Finchley Circle, Councillors Park (Gayton), Applewood Park, Aldred Park, and other areas with trees, perennials and new layouts.
Significantly increased the planting of new trees throughout the town.
Introduced dog bag dispensers to encourage owners to pick up after their dogs.
Added dozens of garbage receptacles.
Added covered garbage and recycling bins on wheels for automated collections to keep the town cleaner and reduce problems due to urban wildlife.
Introduced the green waste and compost collections
BONUS: These environmental initiatives also save the town money.
COMMUNICATIONS
New informative quarterly newsletter.
eHampstead e-mail notifications.
Brand new web site with many interactive features.
Mayor Steinberg is easily reachable 7 days a week by phone or e-mail and responds very promptly.
URBAN PLANNING
Several new by-laws were enacted to preserve the architectural integrity and the green character of Hampstead.
The empty fire station site was sold, which brought the town $5.5 million.
Introduced Hampstead's first town houses to attract young families.
MONTREAL AGGLOMERATION
First Mayor to boycott the Agglomeration Council. Eventually all the Mayors joined him.
His personal efforts and the support of the suburban mayors forced the Quebec government to pay attention and produced Law 22. This law has given the demerged suburbs many important benefits, including control of our arterial roads and the reduction of our taxes.
Became a member of the Permanent Commission on Public Security (Police, Fire and Civil Security) and was Vice-Chair.

Bill's recommendation on when to use tasers (especially with respect to disturbed individuals) was adopted as the first recommendation of the commission.
Presented a minority report on the need to control spending, which previously was three times the rate of inflation. It has since come down considerably to almost the rate of inflation. Read the Henry Aubin article in The Gazette.
LABOUR RELATIONS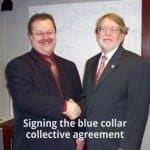 Concluded five long-term labour contracts with no strikes or work slow downs.
Reduced the Town's contributions to the employees' pension plans.
Kept salary increases at 2% – 2.5% most years.  
Major reductions in rules and job classifications resulting in greater productivity and efficiency.
Facilitated partnerships with CSL, Westmount and Montreal West.
Fostered excellent relations with Synagogues within Hampstead.
Strengthened the ties with our sister-city in Israel, Kiryat Shmona.
Created a strong relationship with the Canadian Forces Royal Montreal Regiment.
*8.06% Based on the latest Quebec government statistics