Hampstead is the only city on the island to get that award and one of only 11 in the province.
I would like to highlight and thank my wife, Dr. Doris Steinberg, for her tireless dedication to beautifying the town. If it weren't for her incalculable volunteer hours, the town would never have won the 5 fleurons award or look as beautiful as it does now.
Queen Mary has been beautified by increasing the planting areas from 2% of the median to more than 22%. Additionally, the use of perennials saves the town money by reducing replanting and repurchasing.
Transformed Fleet from a median of nothing but concrete to cutouts with trees, perennials, and annual flowers.
Totally redesigned and beautified the following parks with trees, perennials and new layouts: Councillors (Gayton) Park, Applewood Park, and Aldred Park.
Improved the following parks with new plantations: Ellerdale Park, Wexford Park, and Hampstead Park.
Redesigned and beautified all the following green spaces:
Finchley Circle,
Harland Place,
Finchley Place,
Holtham Place,
Heath Place,
Fallbrook Place,
Humphrey Lane,
Finchley and Northcote triangle,
Dufferin between Queen Mary and Ellerdale,
Cressy and Glenmore triangle
Town Hall.
Arranged for the donation of the Harry Rosen sculpture in Ellerdale Park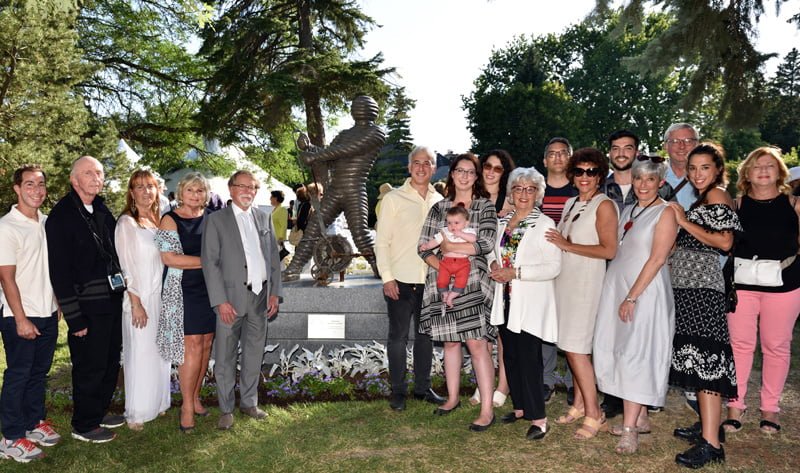 Created Centennial Lane, the most beautiful lane in Hampstead.
Introduced the sponsored artistic benches.
Installed the giant banner stand at Queen Mary and Fleet and greatly improved the floral Hampstead sign below it.
How we afforded the beautification
The lion's share of the funding for all of the above comes from our Park Tax which is paid by those demolishing houses. Mayor Steinberg introduced this new tax which is common in many towns but did not exist in Hampstead.
Much of the Beautification efforts save money in the long term:
We have replaced many annuals with perennials and the budget for annuals has been slashed by over half.
We added irrigation systems in several parks reducing manpower for watering.
We have introduced over 50 extra large hanging baskets which store water and need less watering.
A Greener and Cleaner Hampstead
Read about what we have done for the environment