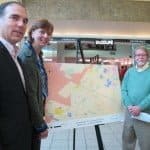 Partnerships with Cote St Luc, Westmount and Montreal West
Made a financially attractive snow dump deal with CSL.
Gained access to the CSL library for Hampsteaders.
Montreal West and Hampstead have joint hockey teams.
Relations with religious organizations
Annual menorah lighting with the Montreal Torah Centre.
Annual Purim party with Adath Israel and other synagogues.
Gave Nahar Shalom official synagogue status.
Introduced high-holiday services in community centre in partnership with Kehila Sepharade de Hampstead.
Hampstead School
Worked with the school to prevent the area being misused (for example to prevent drug dealers from using the grounds)
Assisted in the maintenance of their grounds (both for beautification of the area and because it posed a security issue)
The school has provided their facilities to the town, for example, swing dancing classes, basketball programs, day camp use, etc.
Bill was a keynote speaker at the graduation ceremony, gave out an award.
Hampstead School students take part  in the Hampstead Remembrance Day ceremony.
Sister-city Kiryat Shmona
Increased ties with our sister city, Kiryat Shmona, in Israel.
Welcomed a delegation including the Mayor and Vice-Mayor in Hampstead.
While on a personal trip to Israel, Bill visited Kiryat Shmona strengthening the bond between our two sister communities.
Passed a resolution congratulating Hapoel Kiryat Shmona, the number one soccer team In Israel.
Royal Montreal Regiment (RMR)
Granted the Canadian Forces RMR Freedom of the City. Freedom of the City is one of the most prized honours that a community can bestow upon a military unit to express their affection and esteem for it.
RMR takes part regularly in our Remembrance Day ceremonies.
Montreal Agglomeration
Became a member of the Permanent Commission on Public Security (Police, Fire and Civil Security) and was  Vice-Chair.
Bill's recommendation on when to use tasers (especially with respect to disturbed individuals) was adopted as the first recommendation of the commission on this topic.
Presented a minority report on the need to control spending, which previously was three times the rate of inflation. It has since come down considerably to almost the rate of inflation. Read the Henry Aubin article in The Gazette.
Provincial
Meets regularly with MNA David Birnbaum and has lobbied for the Cavendish extension, protection of minority rights and against Bill 14 (Bill 14 is designed to strengthen the french language charter at the cost of individual rights).

Has lobbied for and obtained provincial grants.
One of the leaders in the fight against the unfair provincial electoral map. "All votes in Quebec Should Have Equal Weight" – Montreal Gazette.
Federal
Meets regularly with MP Anthony Housefather.

Worked on a petition presented by Irwin Cotler, former MP, in parliament requesting Federal aid for dealing with the devastating effects of the Emerald Ash Borer.
Worked on a resolution on the same issue that was adopted as an Emergency Resolution by the Federation of Canadian Municipalities in June, 2013.
Obtained significant grants for infrastructure projects.
Was awarded the Queen Elizabeth Diamond Jubilee medal by the Federation of Canadian Municipalities.
Read about what Bill has accomplished in his Track Record or read about what Bill intends to accomplish in the Next Four Years.